Wow!  I had heard of Breakout EDU before but to actually start one in class was really amazing!  There are quite a few things I learned along the way and I probably have many more things to learn.  Here are my reflections, education standards, sources of materials and steps I used to do this particular game which could apply other games.
First, I notice that they suggest whole class sizes and I see videos with classes given the puzzle.  I am not sure this is the best way to go about it.  There are only so many things you can do with the clues once everyone has gathered the evidence.  While watching the videos I noticed how some people would hang out in the back and not participate or after gathering the clues some of them had nothing to do.  I am sure some breakout games could work around this with more small lock boxes and more clues.

(Source: Breakout EDU.com)
Like most times when flipping the classroom, I put a LOT of time into it beforehand and then just aid the students through the game.  It is HARD not giving them hints and watching them fail and go back.  Oh my goodness!  Since changing my teaching strategy from what I used to do, it really is harder but the kids eyes light up like crazy when they get it.
Reflection:  All of us reflected on the game at the end.  The game timer of 45 minutes gives us 10 minutes to discuss:  how did we work in a group?  Were you a leader or did we all lead at different times?  Why did we make that mistake and how can we fix it next time?  So for example one student solved a clue by clicking on the eye of the Statue of Liberty.  She didn't tell anyone though that she did this.  So the other students were looking for clues relating to the eyes of the Statue of Liberty for a good chunk of time.  So we discussed how next time clues or problems could be posted on the dry erase board.  This is really important when you have larger groups of students.
Standards:  How and what standards did I use?  I used this in the gifted class at my school for 6th grade.  We are working this quarter on Divergent Thinking, developing fluency in our ideas, flexibility in our solutions and elaborating.  They need to learn how to organize their creative thoughts and find connections between ideas.  This type of escape room is a microcosm for exercising the 4 main 21st century skills that students need:
Collaboration and teamwork.
Creativity and imagination.
Critical thinking.
Problem solving.**This game and everything listed will work in other classrooms as well!  This just happens to be the class I am teaching at the time.  To modify it for a regular classroom, I would choose a game at their level (this one was for middle school/high school) and the appropriate amount of students listed on the game or what you think your students need.   I chose a game a little above their age and used fewer players**
Step One:  Buy a Breakout EDU box or make your own.  You can purchase the locks at Amazon and the hardware store.  The number locks, directional lock and alpha lock are the key to many of the games' puzzle.  A black light marker and black light flashlight were also used in the game.  You want to make sure the marker is invisible in normal light.
The USB drive that came with the box did't work for me.  I used my own which was nice because it twists and added a little "twist" to solving the puzzle.  This was simply because I used to own a company and put my client's photographs on custom made USB drives.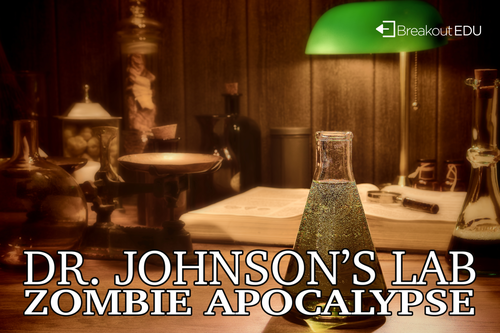 (Photo from Breakout EDU)
Step Two:  Create your own game or find one already created for you on the website.  I wanted to follow one first in order to be able to manipulate it later for my own needs.
Dr. Johnson's Lab is part of the Breakout EDU so you need to purchase a kit to have access to the games.
You can also find games online and on Teachers Pay Teachers.  When doing a search, also try the term "escape room."
I noticed that the set up video skips the other lockbox with the Delta Airlines code on it.  Since this was my first time doing a Breakout EDU I left it out as well.  I think it would have and could have been included seamlessly into the game.  I have a small class size and this removal worked well with me.  If I had more  students, then this part would have been included.
Step Three:
Print everything out.  Mark and cut and get your items created.  So, for Dr. Johnson's lab I had to print out just 3 or 4 sheets of paper.  The rest were colored arrows vital to the game.  Since I don't have a colored printer, I just drew them and colored them myself.
Here are Printables for the end of the game.
Step Four:
Set all of the locks.  There is handy tutorial on how to do this.
Add something fun inside the box!!  I printed out the printables, a pretend vial of the antidote and also included some Hershey Kisses in the box. The kids went nuts!
Step Five:
You need to set up the room before the students enter.  I set it up at the beginning  of the day.  Nobody noticed the extra items much.  I drew the breakout symbol with the arrow on small sticky notes and put those on the Breakout clues.  That way they could tell it was a clue versus not a clue.  You also need a computer for the kids to use.  I borrowed a Chromebook from another teacher or let the students use my computer.  Letting my students use my computer was fine except we couldn't see the timer sometimes.
Step Six:
Set up your computer and play!
I have the Breakout Facilitator Slideshow up for introducing our game.
I have the Youtube video with the crazy mad scientist to introduce the game.
Finally, I have the Breakout timer running on another tab.