Hello Care Givers and Parents!
Over the years, I have been asked a few times about what games and STEM activities would be good for entertaining and challenging for their child.   It is always nice when it is not only FUN but educational as well.  Learning IS fun!
These are items that my own children have or that my students have learned from and enjoyed.  There are no affiliate links – so feel free to browse!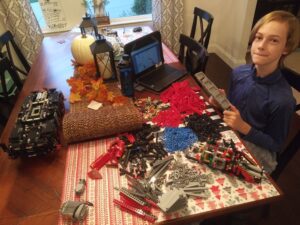 LEGO
Almost everything Lego is a hit with kids.  Kids learn to pay attention to images instead of words and follow those directions.  Be very attentive to how many pieces are in the set and the size of the pieces.  I purchased fishing tackle boxes to organize the small leftover pieces.
Lego Boost – this is good for basic intro level robot programming.  Ages 7-12 is about right.  If you have an advanced lego builder over age 10, then I would move to the next robot –>
Lego Robot Inventor – I do not own this one because it is so new.  We do own the motors and the accessories are abundant and the more simple layout may be more beneficial than the Lego Mindstorm EV3.
Lego Mindstorm EV3 – This is retiring soon.  If you find a used one with all the pieces, then it might be a good deal.  Otherwise, you need to skip it.  It will be hard to get replacement pieces once it retires.
Any legos are great!  We like the Minecraft and Star Wars lines.  I like the Architecture lines – those look a lot of fun.
MAKERSPACE IDEAS
Makerspace Ideas – Here's my list on Amazon for a Makerspace List.  One thing you will need that is not included is hot glue sticks and low temp hot glue craft guns.
I get a lot of ideas from Lance Makes.  I made the propeller car  with 6th grade and we had fun racing at the end.
BOOKS
Kids love brainteasers.  These are fun for a long car ride and trying to avoid screen time.
Here is my Amazon list for Brain Teasers and Games.
ONLINE
Check out my blog post with Online Games all in one slideshow!  This includes classic favorites like SET.