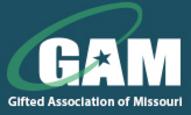 Source: http://www.mogam.org/home.html
The Gifted Association of Missouri has sectional conferences and state conferences that support gifted students, teachers and parents. Vendors come from around the state with tables of items and free information. This organization keeps me updated on Missouri law and changes to that law that affect gifted students. Advocacy is a big part of the organization. Past conference materials are available as well.

Source: https://www.giftedsupportnetwork.org/
The Gifted Support Network is a localized organization in St. Charles County, Missouri. They coordinate parent support groups to help assist parents of gifted students. They offer enrichment classes for students such as mixed media, crime scene investigations and animals. Finally, they offer speaker engagements in order to obtain different perspectives from experts.

Source: http://www.giftedresourcecouncil.org/
The Gifted Resource Council serves the greater St. Louis Metro area. This organization is non-profit and provides learning opportunities for gifted learners. These opportunities include Learning Labs, competitions, and parenting groups.